If images below are not visible, please click HERE to view online.
---
In the Studio
Every month there is a new themed show at the SF Women Artists Gallery. This month's theme baffled me. While it makes sense for painters, as a photographer, all my work is finished 'in the studio'. So, whether or not these images fit the theme, they were accepted by the gallery for their October show. The Opening Reception is Thursday, October 13 from 5:30 - 7pm at 3489 Sacramento Street, San Francisco. A small double-matted Book and Jar in a 10 x 12" brown frame is one of my latest works, the result of a walk in San Francisco's Japantown.
Much larger in 20 x 28" black frames are Passing Time, taken in Puebla, Mexico this past spring, and Mannequin 2, my spiderweb-clad favorite mannequin shot.
---
The North Beach Show
This past weekend was the culmination of the months-long planned show at the Live Worms Gallery in North Beach. 3 Shes + 1 He opened Friday, along with the Fleet Week festivities, and closed last night amid the crowded, buzzing Columbus Day activities. It was a fun and busy time with lots of art lovers as well as many North Beach street folk popping in as soon as we turned the lights on each day.
Several of you wrote me to say you couldn't get through the traffic - I understand! - so I've put up a slideshow of all my works that were in the show. If you were among those stuck in one of the worst traffic weekends in SF, or just didn't make it and would like to see what I had there, click here for the slideshow. (You might want to grab a cuppa first - I had 72 pieces, either framed or in bins!) If we repeat the experience next year, I promise we'll pick a different weekend....
---
New Works
I did manage to do several new pieces since my last newsletter (all of which were in the show). A small sampling here.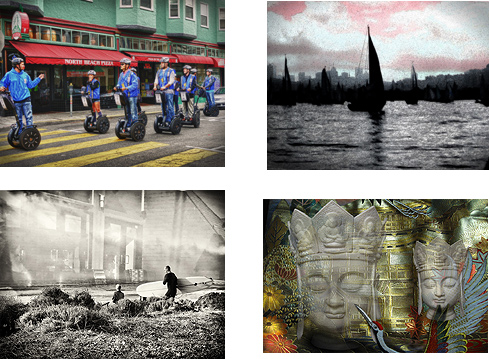 Above left, Segways, shot during one of the pre-show visits to the gallery; upper right: a new treatment to an older photograph during a bay sail. I call it Sailors' Delight. Lower left: Surf Café, a view through a glass wind screen of the ocean showing the reflection of the restaurant behind me, and lower right - House of Dreams, a composite of some artifacts in Japantown.
---
FREE E-CARDS of any of my works are available from my website. Click on a picture you like in any of the portfolios and follow the links at the bottom.
---
As always, I'd love to hear from you with comments, critiques, suggestions, etc. Please forward this email if you think it would be of interest to anyone you know. And, of course, if you don't want to receive my monthly announcements any more, you can unsubscribe below. Previous newsletter editions are available here.