If images below are not visible, please click HERE to view online.
---
Contents:
North Beach Show October 7 - 9 - Reception: Saturday 10/8 2 - 6pm
SFWA Show Sept. 13 - Oct 8 - Reception: Thursday 9/15 5:30 - 7pm
Online exhibit: current
New Works
---
Group Show at the Live Worms Gallery: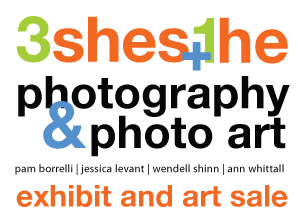 I am excited to invite you to a four person show in North Beach next month. I will have about 60 pieces in the show - not sure of the the others' quantities at this writing, but there will be LOTS of art - framed and unframed, plus the ability to order different sizes if there's something you would like in a smaller or larger size. There will also be note cards. The first evening, Friday 10/7 we will be part of North Beach's "First Friday Gallery Night", always a fun strolling activity - with lots of opportunities to sip a bit of wine as you dip into different venues. Our own reception is on Saturday afternoon 10/8 from 2 - 6, and we'll be there on Sunday, 10/9 from 12 - 5pm as well. The gallery is at 1345 Grant Avenue, San Francisco. I hope to see you there - you don't have to be shopping - just come in and say Hi and enjoy the North Beach vibes!
---
Colors, Colors, Colors!
Right up my alley! The theme for this month's show at the SFWA gallery is COLORS! Most of you know how I love colors! At left is my rendering of a peacock spied on the grounds of the DiRosa Gallery in Sonoma a few weeks ago.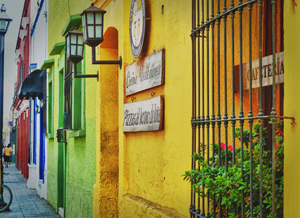 And on the right, one of the many colorful streets I wondered along in Oaxaca during my travels this spring. Both are 14.25 x 18.25" framed in 22 x 28" black frames.
My third piece is entitled, not surprisingly, Begonias, which is from a picture I took at the Korbel Cellars in Guerneville last week (I shot it before the champagne tasting!) It's about 8 x 10" in a 10 x 12" white frame.

Do stop by the gallery and see the real things. It should be a very colorful show!

Opening reception: Thursday, September 15 from 5:30 to 7 pm at the SF Women Artists Gallery, 3489 Sacramento St.
---
Stillpoint Gallery:
I've had 4 works accepted for the show, Destinations: Famous Places and Intimate Spaces at the Stillpoint Art Gallery, Maine. The exhibition opened August 10 and goes until November 15, 2011. See it online here - my works are on pages 2 & 16. Here's a peek: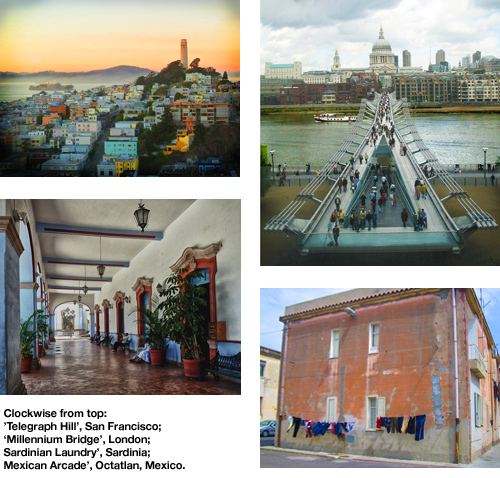 ---
New work: And finally, a few of my new works since my last newsletter - all of these strangely for me, feature people!


You can see larger versions of these on my website.
---
FREE e-cards of any of my works are available on my website. Click on a picture you like in any of the portfolios and follow the links at the bottom.
---
As always, I'd love to hear from you with comments, critiques, suggestions, etc. Please forward this email if you think it would be of interest to anyone you know. And, of course, if you don't want to receive my monthly announcements any more, you can unsubscribe below. Previous newsletter editions are available here.