If images below are not visible, please click HERE to view online.
Not a pot to ....
So the theme for the May show at the SFWA Gallery is GRIT and above is one of my photographs that will be on exhibit from Wednesday to June 1. I called it Porcelain Soldiers - maybe because I shot it at the demob'd Army base in the Marin Headlands. It's matted and framed in a sort of driftwood-looking wooden frame (16 x 20").
But wait, there's more! My Steel Plant below won a Merit Award for this show:
I shot it at the Bethlehem (PA) Steel Plant, or what's left of it, when I was there a year and a half ago. It's actually been converted into an event/art space so I'm anxious to see how
it looks when I'm back there in July. So, back to the art show - the Steel Plant is matted and in a black 24 x 30" frame.
My third and last piece in this show, seen at left, is called, for obvious reasons, Lockers. I found these particular ones back in a corner of the SF Art Institute's Graduate School studios. This one is also in a 16x20" frame, black wood, white mat.
The Reception is Thursday, May 9 from 5:30 to 7:30 at the SFWA Gallery, 3489 Sacramento Street @ Laurel. There are 45 other interpretations of GRIT to look at, so I hope you can come feast your eyes.
---
The City I Walk
But before then is my solo show which I warned you about in my last epistle.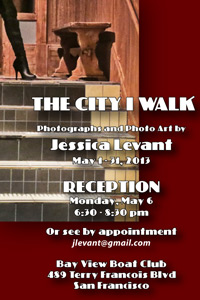 'The City I Walk' will be at the Bay View Boat Club, 489 Terry Francois Blvd. for the month of May. The reception (with jazz accompaniment by Randy Craig's trio) will be this Monday evening, May 6, from 6:30 - to 8:30. If you're anywhere near the Bay Area,>please come say hello, enjoy the music and have a look at 'my city'!
Parking in the lot is .25/hour - be sure to leave a receipt on the dash so you don't get a ticket.  When you arrive, please sign the guest book, putting me down as sponsor and grab a name badge. It's a private club and these are the rules!
I'll have a bin of unframed works, some additional one-night-only framed pieces and some blank greeting cards at a special show discount, so if you have a space on your wall, or need a gift (Mothers' Day is approaching!), prepare to look them over. Credit Cards accepted.
---
New Works
I was in Los Angeles last week and took around 200 photos of the new Music Center and more than 100 at the Getty - I have not had time to go through either batch! Here a few of less famous places for your enjoyment. (I hadn't been to L.A. for many years and was amazed at its transformation. Some of the architecture outdoes Chicago and that's really saying something.)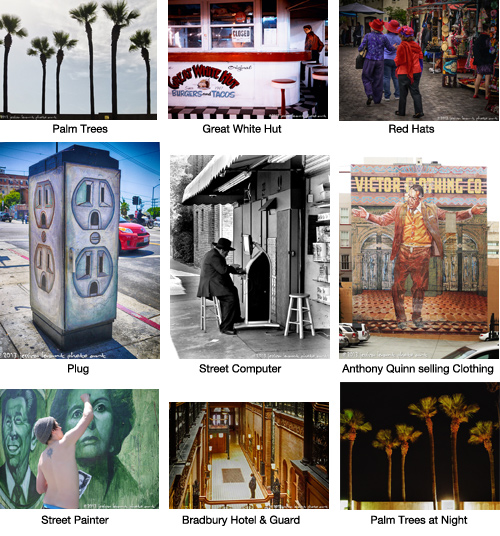 ---
Street Seens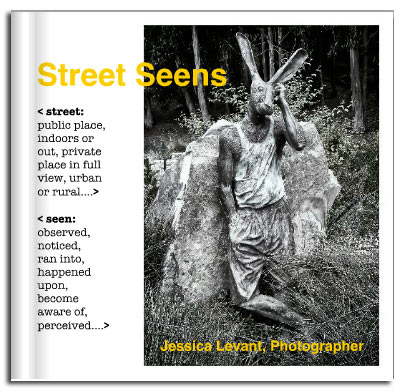 Still available - It's 8 x 8" and 80 pages.

You can preview the whole book HERE. It's only available online - purchase details on the preview page.
---
As always, I love hearing from you with comments, critiques, questions and suggestions or to just generally keep in touch. Every month I get back in touch with a few folks from far away. Please forward this email if you think it would be of interest to anyone you know. And, of course, if you don't want to receive my monthly announcements any more, you can unsubscribe below. Previous newsletter editions are available here.