If images below are not visible, please click HERE to view online.
---
I have two pieces of photo art in this month's juried show at the SF Women Artists gallery, which to honor the National Month of Women, chose the theme: WOMAN. Most of the accepted entries, and there are many, are beautiful renditions of Woman as the serene, the thoughtful, the all-loving. My quirky proclivities drew me in slightly different directions. The ladies above, The Knitters, were sharing a table with me at a jazz concert, and keeping their hands busy as they listened. I did love what I call the intense serenity, but also their sense of style. In any case, they gave me permission to use this, so here it is for your enjoyment too. It's matter and framed to 16 x 20".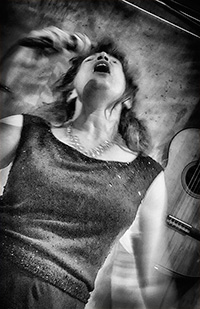 My other piece is far from an image of serenity. For those in the Bay Area*, you may recognize Pamela Rose, a powerful Jazz and Blues vocalist as well as a music educator and promoter of 'Wild Women of Song" (a book, a CD, and a concept). I've named this piece, not surprisingly, Wild Woman of Song. It's matted and framed to 18 x 24" and as you see presented in black and white, though I used the color version in my book. *(Pamela is actually in international performer, but the Bay Area gets to claim her as she has lived here for many years).
The Opening Reception is Thursday, March 6 from 5:30 to 7:30 at the SFWA Gallery, 3489 Sacramento Street @ Laurel. Come and say hi, meet some of the other artists and see their work, and enjoy being surrounded by walls of women!
---
FOR YOUR CALENDAR: SHUTTER & STROKE III SHOW
I was very pleased to be invited to show at the third Shutter & Stroke art show in North Beach (as the name implies, the show includes both paintings and photographs). I will be featuring my latest passion, what I call my 'fancy' work. (You can see some of it in the gallery of the same name on my website. I'll be one of 10 artists exhibiting in this show which runs from MAY 2 - 4 at the Live Worms Gallery on Grant Street, SF. More on this next month, but PLEASE GET IT ON YOUR CALENDAR!
---
GOT A GREAT REVIEW!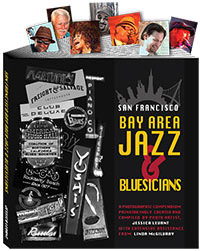 SF Bay Area Jazz and Bluesicians continues to do well - KCSM, the bay area 24/7 jazz station just ordered 85 copies to fulfill pledge drive gift choices. But the really exciting thing for me is that this very morning I saw a copy of a review that warmed me from head to toe. You can read it here. Meanwhile, photos for Volume 2 are happening regularly, so I expect to make another Christmas publication date.
The current volume with its 117 musicians is available at bayareajazzandbluesicians.com or on amazon.com - or wherever I am - I usually have some copies in my car. In addition, Bird & Beckett Books & Records stocks it, so if you're near Glen Park, you can pick one up there. A partial preview is available here.
My previous book, Street Seens can still be had from blurb.com.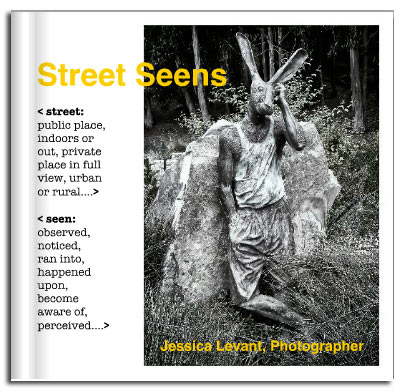 It's full of street photography from around the world, and it's available in paper and hard cover versions.

You can preview the whole book HERE. It's only available online - purchase details on the preview page.
---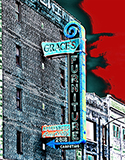 Finally, the latest 'Recognition'
One of my favorite photographs, Grace's, was granted 'Special Recognition' at the annual Light Space & Time Cityscapes online Competion. This is an international competition, so I'm pleased to be among the 'chosen'.
---
Still on show at the Brisbane Marina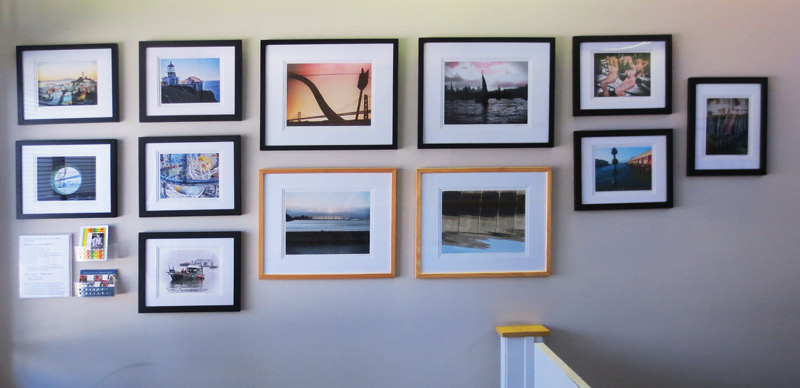 In the Harbor Master's Office. Open 7 days a week during the day. Prints of all of the pieces are available for purchase, framed or unframed, in a variety of sizes. Just let me know your preferences and we'll go from there.
---
As always, I love hearing from you with comments, critiques, questions and suggestions or to just generally keep in touch. Every month I get back in touch with a few folks from far away. Please forward this email if you think it would be of interest to anyone you know. And, of course, if you don't want to receive my monthly announcements any more, you can unsubscribe below. Previous newsletter editions are available here.