If images below are not visible, please click HERE to view online.
In this issue: Three June Gallery Shows - Two Receptions - New Work
In the Moment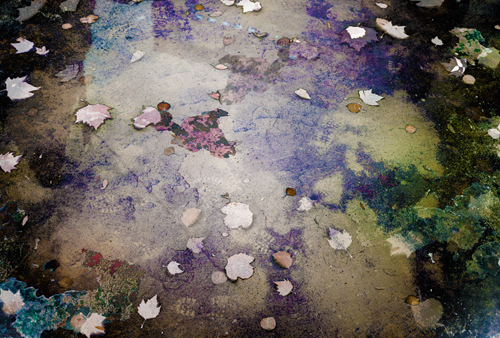 I guess I could have called it Leaves in a Fountain, but the colors seemed cosmic to me, so I called it Cosmic Breeze. Taken in New York in November when there was about a quarter inch of water in the fountain along with shoe prints and late Autumn leaves. Framed in sleek black at 20 x 28"; with a white mat.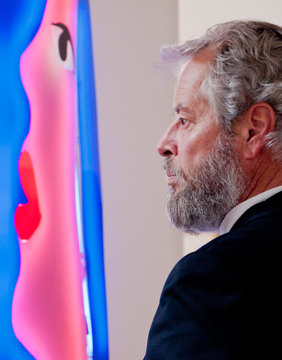 This and the next two at the San Francisco Women Artist Gallery's June show.
A bit more relevant to the show's theme, In The Moment, is "I Wonder If She Cooks, taken at the recent Fort Mason Art Show. This one is matted in a 16 x 20" black frame and could liven up many settings! My last entry this month is Street Opera - shot on Maiden Lane in San Francisco and hung in Presidio Heights in a 10 x 12" black frame.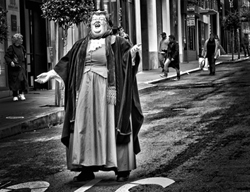 As usual there is a reception and, as usual, you are invited. It's on Thursday, June 14 from 5:30 - 7pm at 3489 Sacramento Street, San Francisco. The show runs until June 30.
---
Another Opening - Another show!

I was very pleased to learn that 3 of my photographs were selected to be in Reflections, a show that will run for a week featuring the new Photo Nouveau arm of Misho Gallery, 680 Eighth Street, San Francisco, Suite 230 - The gallery is conveniently located in the Design Center where street parking is actually quite possible!. There's a preview party on Friday evening, June 22 from 5 - 9pm with live music, and an opening reception on Saturday June 23 from 1 to 5pm. Do come!
---
And in Belmont...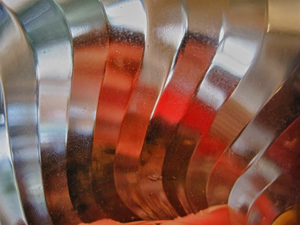 At right is one of my recent experiments that is gracing the walls of the Twin Pines Art Center in Belmont for their June Show, 'Abstract Splashes'. I call it Glasscape. My other piece is called Lobby Study, a burst of color seen through a glass coffee table in the lobby of a large public building. Both works will be there for the rest of the month - 10 Twin Pines Lane, Belmont, CA, noon - 4pm, Wed - Friday; 1 - 4pm on weekends.
---
New Work!
A few more from the art show at Fort Mason, where I love to look at the people as much as the art, plus one at a colorful restaurant on Mission Street.
---
Review of May's Show at the Bay View Boat Club

Well, not really a review, but a thank you to the many, many of you who came to the boat club for the reception and on other days. The show was very well received and 18 more of my photographs are now gracing new walls. If you missed the fun, plan to come next May!
---
Street Seens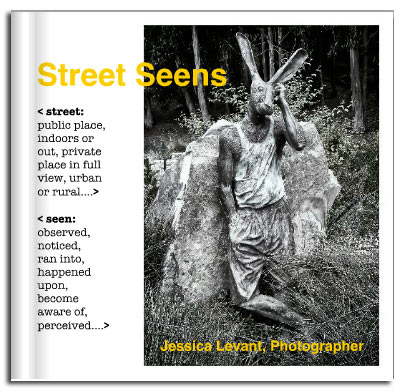 And finally, a repeat of my blatent pitch for you to look at and preferably enhance your coffee table and those of all your friends with my book (Well, a girl's got to make a living!):

You can preview the whole book HERE. It's only available online - details on the preview page.
---
As always, FREE E-CARDS of any of my works are available from my website in various formats and sizes. For free e-cards, click on a picture you like in any of the portfolios and follow the links at the bottom.
---
I love hearing from you with comments, critiques, suggestions, etc. and to just generally keep in touch. Please forward this email if you think it would be of interest to anyone you know. And, of course, if you don't want to receive my monthly announcements any more, you can unsubscribe below. Previous newsletter editions are available here.