If images below are not visible, please click HERE to view online.
Glitz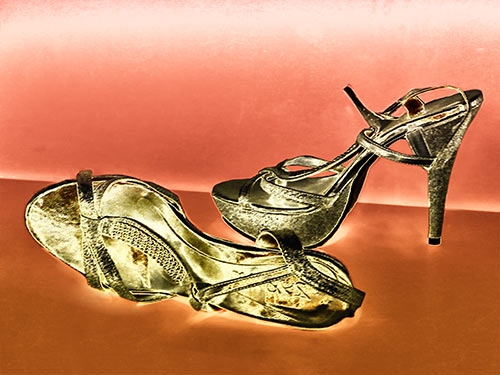 Glitz is the theme of this month's show theme at the SF Women Artists Gallery. All three of my entries were accepted. (Pretty good for the non-glitzy person that I am). Above was a last minute find (in a shop - I grabbed them and took them into the fitting room to shoot their portrait - and I got home and played with color). Framed in a black mat 16 x 20 frame and matted in thick white, they look pretty glitzy!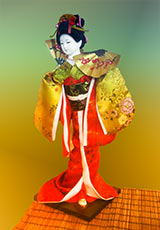 Next, let me introduce Fans, a delicate looking figure with lots of gold. She's framed in an 18 x 24" black frame with lots of white space around her. Finally, my Southern California glitz, Oz on Grand Avenue,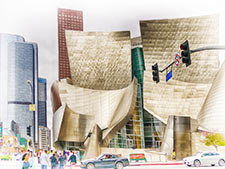 probably instantly recognizable as the Walt Disney Concert Center in L.A., it's the glitziest building I know of. It's matted in white and framed in a plain black 20 x 28" frame.
The Reception is Thursday, December 5 from 5:30 to 7:30 at the SFWA Gallery, 3489 Sacramento Street @ Laurel. All artists and guests are invited to dress for Glitz.... I hope to see you there.
---
The Book!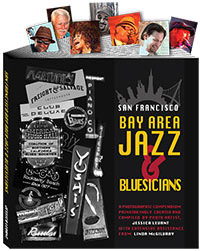 It's out and available on amazon.com or at bayareajazzandbluesicians.com. Amazon might be a dollar more once you add tax and shipping, but it will definitely be faster! Either one ends up in the vicinity of $25 which is below the list price. Tonight is my second book release event, this time at a bookstore with music instead of a jazz club. Last week was quite exhilarating as I just about ran out of copies. It was a wonderful experience watching grown ups running around and gathering autographs from all the musicians there - and they were some of the grown-ups doing the same thing. Here are a few shots for those of you who are not following this on facebook:

That's probably enough for this month. And besides I have to get over to the bookstore.
I wish you a very happy holiday season - not too stormy, not too hot, not too crazy - just warm and cozy and preferably shared with those you like being with. And let's all hope for some good things for the world in 2014.

---
Still on show at the Brisbane Marina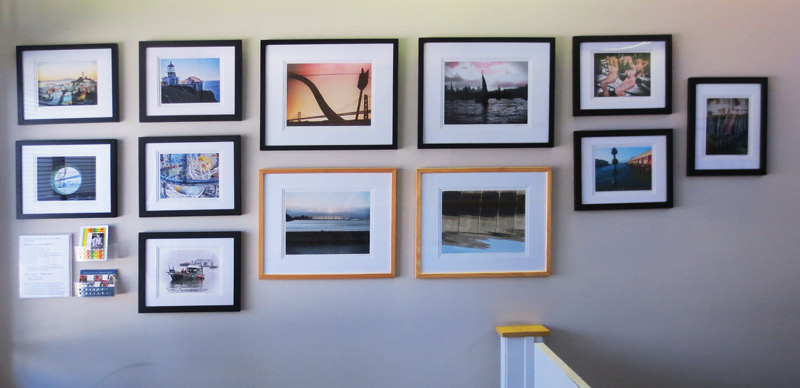 In the Harbor Master's Office. Open 7 days a week during the day. Of course prints of all of the pieces are available for purchase, framed or unframed, in a variety of sizes. Just let me know your preferences and we'll go from there.
---
Street Seens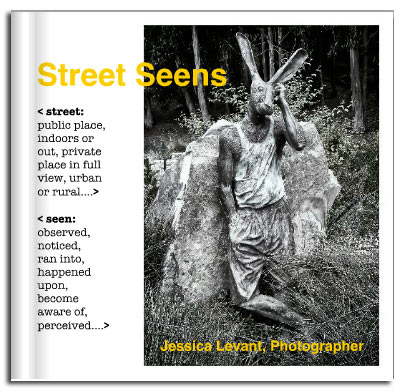 Still available - It's 8 x 8" and 80 pages. Click below to purchase.

You can preview the whole book HERE. It's only available online - purchase details on the preview page.
---
As always, I love hearing from you with comments, critiques, questions and suggestions or to just generally keep in touch. Every month I get back in touch with a few folks from far away. Please forward this email if you think it would be of interest to anyone you know. And, of course, if you don't want to receive my monthly announcements any more, you can unsubscribe below. Previous newsletter editions are available here.