The Look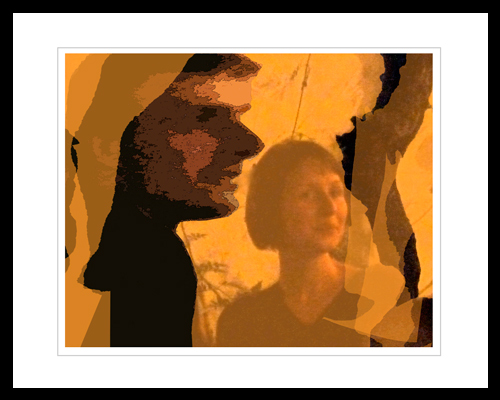 This has been quite a month. As I mentioned in the last newsletter, I was taking off for Mexico for two weeks. I did and it was wonderful and I harvested about 600 photographs! But while I was there, my 99 year old mother began her final decline, had to be urged into a health care center and, a week after my return left this world. For obvious reasons I haven't had much time to focus on creating art, though it was therapeutic for me to work on the above piece for the the April show at the San Francisco Women Artists Gallery. It started with a photo of the young woman at a party where I was staying in Oaxaca. Her beauty and expression captivated me. The theme for the show this month is 'Expressions' so it seems to fit. It's printed at about 18 x 14" on Epson Fine Art Velvet paper, and is framed in black.

The show opens tomorrow, April 5 and the reception is Thursday evening, April 14 from 5:30 to 7pm at the gallery, 3489 Sacramento Street, San Francisco. The show will be up until April 30. Hope to see many of you there.

The galleries and the public art in Mexico were amazing. While I've noticed that in other parts of Mexico, there were more galleries in Oaxaca than I could manage to visit and the art was fresh, world class and totally enjoyable. (Also generally free to view). In Coyoacán, a well-heeled southern barrio of Mexico City, there is an International Museum of Watercolor, the first of its kind I believe. Both the grounds and the exhibition were lovely and worth a visit if you're in the area. You are of course welcome to look at some of the photos from my latest dip south of the border. The album is at jesslevant.com. Most haven't been transformed into portfolio pieces (yet). Two exceptions are below.
---
New work: I've posted a couple of new pieces on my website, both results of my travels in Mexico.

It's Time was a shop window in a little town in central Mexico. I loved the juxtaposition of clocks inside, outside and reflected. Plumbing Supplies was a depot seen from an intercity bus somewhere between Taxco and Puebla. Of course I did some work with the colors. They are both on my website, under Favorite Photos.
---
Still on view: 6 of my still life pieces at the Stillpoint Gallery's Online Exhibition Still Life: Ordinary and Extraordinary (page 13) will be up until April 19, 2012.
---
As usual, I'd love to hear from you with comments, critiques, suggestions, etc. Please forward this email if you think it would be of interest to anyone you know. And, of course, if you don't want to receive my monthly announcements any more, you can unsubscribe below. Previous newsletter editions are available here.